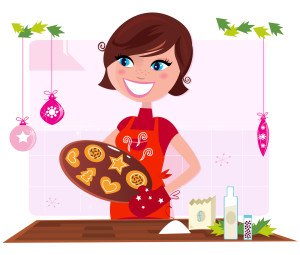 Almost as if we didn't know that 340 days were going to pass, we are suddenly plummeted into December…AGAIN!!!  We start the frantic rush to get it all done perfectly and on time so we can celebrate a Norman Rockwell Christmas.  Who was that guy anyway?  Each year, retailers bring Christmas earlier.  I suspect that someday, we shall see Christmas year round if this keeps up!    Let's see…where to begin?
Decorating the tree

Decorating the house (inside & out)

Present Shopping & Gift Wrapping

Meal Planning & grocery shopping

Christmas parties…to attend and to host

Pictures of the kids/pets/tree

Christmas Cards & Newsletters

Baking cookies & Treats

Church pageants

Concerts & Shows for the kids

Running all over creation to see all the relatives
STOP the Insanity!  Just stop it!  Well, except for the baking.  Keep that part and ship some to me!  : )
How do you manage to have a fantastic Christmas and not end the month of December exhausted? 
Below are some ideas to keep December stress-free.  Pick a few and incorporate them into your holiday season!
~ Have a Plan.  Print out a few blank calendars and pencil (yes…pencil.  We want to be able to erase!)  in all the non-negotiable things that must happen first.  Then, start adding the rest of the events to the calendar.  You will see it quickly fill up.  Then…
~ Just say No.  You do NOT have to do it all.  Touring Christmas lights is one of my favorites but  adding it to the calendar when the previous 6 nights are full may not be the best idea.  Because…
~ You need Rest.  Pick a few days on that handy-dandy calendar you just printed out and cross them off.  Plan to rest.  Get your sleep and take care of yourself during December.  Exercise.   Don't overeat (which causes guilt and then stress!).
~ Turn off the Television.  "WHAT?  But, there are so many Christmas shows I need to watch!"  For many years, when we had cable, we turned the television off for the entire month of December.  All of it.  You will be AMAZED at how much stress that eliminates.  Perhaps it is because you are not bombarded with a zillion ads for gadgets you don't need or because you actually use that time to accomplish some of the insanity list from above.  Not sure.  But, it works.  Trust me.  If you absolutely have to watch a particular movie/show, schedule it and make it a celebration.
~ Don't Forget God.  I don't just mean taking Christ out of Christmas.  You need to make doubly sure that you are having time with God each day.  He can help you set your priorities and give your spirit peace when the rest of the world is trying to fill you with mayhem.
~Lower Your Expectations.  It doesn't have to be perfect.  I am a former perfectionist.  I used to choose a clean house over sleep (who does that!???).   I say this with all conviction:  It really only matters to YOU.  No one else cares if your house is not perfect,  there aren't bows on every single gift, or if your Christmas tree is symmetrical.  Every year, I have a Christmas Cookie Exchange.  In the first years, my house was spotless!  My cookies were unique and fabulous!  My hors d'oeuvres were amazing!  14 years later, I do the best I can and my friends understand.  One year, I only got around to decorating the left half of the front porch.  I went ahead and lit those lights and pretended that was the plan; to be unique.  I sometimes think that God was messing with me during those times of perfection though.  Every year, some little thing would happen to upset my perfect party!  Ask my friends about the time a fuse blew on some of the Christmas tree lights and the tree went black an hour before the party…or the time the hot chocolate container exploded mid-way through the party sending Ghiradelli deliciousness all over the kitchen!  You have 2 choices in these moments.  Laugh and move forward or get completely stressed out and give yourself a heart attack.  I think you know which one you should do!
~ Delegate…With Permission.  You don't have to do it all yourself.  Read the advice above again and then delegate a few things to others.  HOWEVER…as my reader, Becky, so aptly said, make sure they want to do it so you don't stress them out and everyone ends up aggravated.
~ Shop online.  Stay out of the stores, out of the rush and out of the compulsive shopping frenzy.  Why is it that I can find more stuff I like in December than the rest of the year combined?  But, I digress.  I am a HUGE fan of Amazon Prime.  Quite possibly the best $99 I spend all year because I use it year round.  All items that are fulfilled by Amazon are shipped free in 2 days (but not those being sold by private sellers who do their own shipping…watch for this!).  If you are sending presents to people out of town, you can ship directly to them and avoid the post office.  One warning about Amazon at Christmas though:  when quantities get low on items, the price automatically jumps, and sometimes to ridiculous prices.  Shop around on-line just like you would in a physical store.  Many stores ship for free at Christmas.  It is easier to stick to your list when shopping on-line.  Then, sit back and wait for your friendly delivery driver to arrive. Perhaps you can use the time you saved driving all around to make cookies and reward the driver for bringing all those packages to your door!
~ Eliminate One Thing.  Take a minute and think about the top few items that stress you out.  Is it wrapping presents?  Pay a kid to do it.  Is it baking pies from scratch?  Trade someone else who loves to bake for something on their list they hate to do.  Instead of sending out Christmas cards, send a Happy New Year card sometime in January.  I have a friend who sends out Easter cards each year instead.  Pick one thing that gives you angst and choose not to do it this year.
~ Use a Bag.  Forget the gift wrapping and head to the dollar store to buy gift bags.  If you have kids, buy plain bags and let them decorate the bags.  They stay busy, have fun, and everyone is happy!
~ Change the Family Tradition. Instead of spending Christmas running around to 4 different family gatherings, change it.  One family I know, the Smith's, created "Smithmas."  They pick a date and all of their grown kids & grandkids come over and spend the night.  They open presents in the morning, have their big Christmas meal and spend time with each other.  This allows their kids to create their own Christmas day celebrations and even visit the opposite in-law without guilt.  Perhaps you stay home and invite everyone to your house this year.  I don't have advice on how to gently break this to your family though.  Call a psychologist first.
~ Don't Break the Budget.  Nothing brings stress faster than knowing your credit card bill in January is going to be over the top.  Look for creative alternatives to Christmas presents.  Homemade presents are special because you used your time to create them.  Give a mama some gift certificates for baby-sitting.  She will LOVE it! E-bay?  Craigslist?  When my children were babies, I didn't buy them presents. GASP!  They didn't know it then and won't (unless of course, they read this blog post).  One year, we lost a significant amount of income and had to borrow the December mortgage payment.  Someone had given me a box of clothes that their child had outgrown.  I washed, pressed and wrapped those used clothes for my 4 year old.  She had no idea they were used.  I have also been known to wrap nearly new toys I had put away from child #1 and give them to child #2 later.  I have learned that spending a significant amount of money doesn't make Christmas any happier.
~ Relax & Enjoy!  Make the choice to enjoy your Christmas season. 
Praying that your Christmas is Stree free and filled with Peace & Joy!!!
Comments
comments