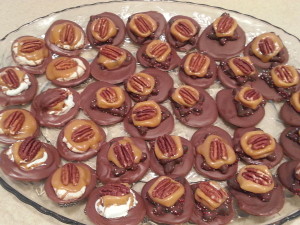 Every year, I host an annual Cookie & Ornament Exchange.  Most of the time, I am so busy trying to get the house cleaned/decorated and appetizers made that my cookies have to be something easy to make.  A few weeks ago, I found these gems on the Pioneer Woman website and they look fairly easy.  They were!
More importantly, they were DELICIOUS!!!!  My 9 year old and I made them.
(Note:  I took pictures of these with my camera phone.  Although they are in my computer vertically, for some reason, they turned horizontal when I loaded them into the blog.  Not a huge deal but I gave up trying to figure out how to fix them.  Cookies still taste the same whether they are upside down, sideways or in your tummy!)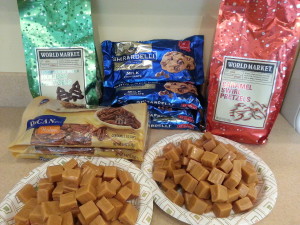 Here is what you need:
Milk Chocolate Morsels
Pecan Halves
Kraft Caramels–Unwrapped
Mini Pretzels  (Note:  I think plain ones will work fine.  I tried to be fancy-smancy and use decorative ones I found at World Market.  I will tell you more about that in a bit.)
Parchment Paper
Yes.  4 ingredients.  Love that!!!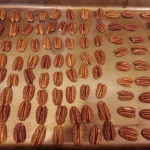 Step One:  Place the Pecan Halves on a cookie sheet and bake them at 350 for about 5-7 minutes.
Step Two:  Line your cookie sheets with parchment paper.  Place your mini-pretzels on them.  Remember I said I tried the fancy pretzels thinking they would be prettier?  The milk chocolate pretzels did well in the oven.  The white chocolate/caramel ones melted a bit and were difficult to work with.  They did look pretty though!  : )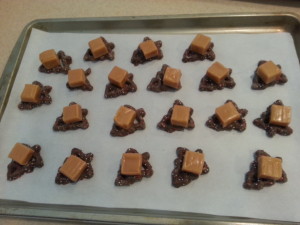 Step Three:
Place a caramel on the center of each pretzel.  Bake in the oven on 325 until the caramels get just a bit soft, but NOT melted.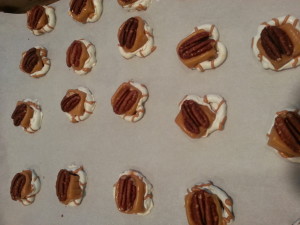 Step Four:
Place a toasted pecan half in the middle of the caramel and gently push down.  Save these for later.  At this point, I lined the cookie sheets with more parchment paper in preparation for Step Five.
Step Five:  Melt the milk chocolate.  I used a double boiler.  Using a teaspoon, spoon the melted chocolate onto the parchment paper into a large circle.  I used the spoon to spread it out a bit so it was larger than my pecan/caramel/pretzel creation.  Kind of like a chocolate medallion of yumminess!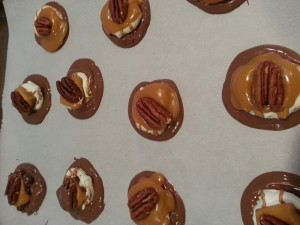 Step Six:  Place the pecan/caramel/pretzel creation in the center of your chocolate medallion.  Done!  Easy Peasy!  I put them in the refrigerator to harden the chocolate.  I made the mistake of trying to eat it fresh out of the fridge…the caramel had hardened and almost broke my tooth.  I am smarter than a fifth grader but don't try that at home!  Let it sit long enough to get back to room temperature.
Yummy Deliciousness!!!
Comments
comments