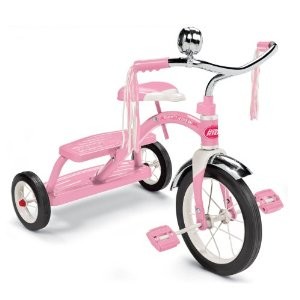 The sun was shining brightly as we finished cleaning the garage.  I wistfully placed a toddler scooter, swing, small bike and several other outside toys that my 6 year old "baby" had outgrown into the van.  Time seems to pass much quicker than I would like when it involves my children.  I also grabbed a bag of smaller clothes and the two of us started our journey.  First, errands and then a quick trip to a friend's who has a few daughters younger than mine.  Carefully, I explained that we were giving all of these things to their girls to use. 
My little one has lots of affection for everything she owns and doesn't like change.  There was a small part of me that wished I had made this trip without her so I didn't have to deal with the consequences.  She seemed, however, to be handling it well.  Until we left their house.  She said her goodbyes and I noticed she had some of the clothes hidden under her shirt.  I explained that they wouldn't fit her any longer and we were going to be generous and give them to someone who could use them.  Her lip quivered and she handed them over.
Inside the van, the tears started.  She was really upset!  "How can you do this to me?  You didn't ask my permission!"  No, I didn't ask her permission because I knew her answer would be no.  "Mom, I love that scooter.  I love that bike.  I love that swing.  You just gave away all my memories!!!"  My heart sank as I tried to maneuver this mine field.
"Sweetheart, you just got a new bike because that one is too small.  Your sister has a brand new scooter that she never uses and you love.  We just cannot keep everything.  Our house isn't big enough to hold it all.  In order to make room for other things, we need to make choices about what to keep and what to get rid of."
My words didn't comfort her much.  She cried the entire trip home and then was sad the rest of the night.  After I put her to bed, I typed the story onto the Encouraging Women Facebook page with my fabulous words of wisdom.  Little did I know…
The next morning, I sat down at the computer and opened up my emails.  Before I even read the email, I knew what it was about.  I have been a wedding planner for over 18 years.  For over a year, someone had been asking to purchase the domain for my wedding business and I wasn't interested.  I still wasn't.  I reluctantly opened the email trying to figure out another gracious way to say no but instead, I heard God say "It's time."
"But God, you didn't ask my permission!  I love that business!  You are giving away my livelihood!  Everything I have worked so hard to build!"
Suddenly, it hit me.  The entire incident from the day before wasn't really about the bike, scooter and swing.  God had used my words to a 6 year old to speak directly to me.  This time, the tears were mine.  I sobbed as I wrote the email back to her saying I would give her my price later that day.  I cried for 4 days as I went through the process of negotiations.  God gave me the vision for Encouraging Women in 1996.  He released me into it in 2013.  Now, He was calling me to concentrate on the ministry and let go of the wedding business I had worked so hard to build.  I was, however, a little amused that the business was 18 years, the same amount of time it takes to graduate a child.  The day came when I turned the URL over to her and when I typed it into the internet browser, her website came up and not mine.  There was a little bit of sadness but unexpectedly, there was excitement.  I was flooded with the possibilities of what God was going to do through the Encouraging Women ministry.
It wasn't long before my business phone rang and a new potential client was on the other end.  As I questioned whether or not I should take it, God told me that while the ministry is my focus now, He wasn't going to completely take away the thing I love to do.  It is going to be more like a hobby.  The best part is that now that I have relaxed about the wedding business, I have gotten some terrific new clients and have been able to enjoy their wedding planning process a bit more because I have less clients and the "stress" of the wedding business is gone.  I know God is providing for our family in other ways.
Letting go isn't easy.  You just cannot keep everything in your life and continue to add to it.  Your life isn't big enough to hold it all.  In order to make room for the best God has for you, you have to make choices about what to keep and what to get rid of.
What is God calling you to let go of today?
Trust in the LORD with all your heart and lean not on your own understanding; in all your ways, submit to Him and He will make your paths straight. ~ Proverbs 3:5-6
Blessings,
Comments
comments