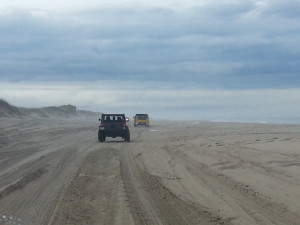 What do horses, a jeep, a beach and prayer have in common?  They were all a part of making memories today.  I will tell you that story later but first, let me tell you the story of a jeep.
When I met my husband, he had a beautiful, red Jeep Wrangler.  On one of our first dates in March (brrrr!), he picked me up without the top on.  In true dating fashion, instead of objecting, I grabbed a blanket and joined him (Seriously wives, if your husband asked you to go on a date, riding in the 40 degree temperatures now, what would you do?).   After dinner, we rode around town, in the cold, singing Grease songs at the top of our lungs.  People at stop lights must have thought we were insane.  But, I digress.  Hubby loved that Jeep.  Every Saturday, he spent hours in the driveway washing, waxing and giving it TLC.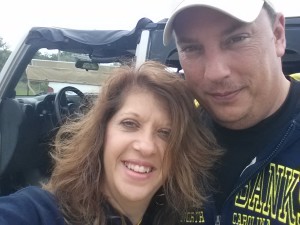 Imagine my surprise when he came home one evening with a truck.  I was beyond stunned when he told me he had traded in his jeep for it.  We had only been married a short time and I don't think it even crossed his mind to ask me for my opinion before he did it.  We may or may not have had a heated discussion that night.  The next day, I called our pastor and asked for advice.  Surely, he would tell hubby to take it back since he didn't include me in the decision making process.  I was in for an even bigger surprise when Pastor told me that I couldn't ask hubby to take it back.  If I did so, he would resent me for the rest of our marriage.  Getting off the phone, I had to figure out how I wasn't going to resent HIM for the rest of our marriage.  We kept the truck and I kept my mouth shut (but it was hard!).  It was only 2 weeks later when hubby admitted he hated the truck and wanted his jeep back.  I went back to the dealership to see if his jeep was still there but instead, we were the proud owners of a little green truck.  In hubby's defense, that truck was one of the best vehicles we ever owned.  In the 8 years we owned it, we put exactly $400 into repairs beyond normal oil changes and tires.  When we sold it, we reaped much more than the KBB value.  But the best thing about that truck was that it taught my husband that seeking my opinion on a decision was important.   In the 14+ years since, he continues to seek my advice before making decisions.  My pastor had much more wisdom than I gave him credit for.  We both learned a lesson in that exchange. 
For the 14+ years since, I have had to watch him ogle over every Jeep Wrangler we see.  "Promise we will get another Jeep someday!" is a recurring phrase I hear.  And, as life would have it, the years have passed and instead of a shiny, red jeep in the driveway, we have a practical silver mini-van.  This week, we are visiting his father & step-mother in the Outer Banks of North Carolina.  I thought it would be a fun to pull a surprise of my own.  I rented a Jeep Wrangler for a guided tour of the beaches of Corolla where the Spanish horses run wild.  Hubby thought we were going horseback riding when we arrived.  Mission Accomplished!!!
I had paid for our tour in advance and when we woke up, it was pouring down rain.  I called to find out that the tours were rain or shine.   I spent the morning convincing everyone that playing in the rain was going to be fun.  I had even almost convinced myself of that until we were driving and the tropical storm rains kept getting heavier.  What was I thinking?  We passed a sign "You can't stop the rains but you can learn to surf." In true motherly fashion, I told everyone we needed to pray.  We began to ask God to stop the rain.  The closer we got, the more it rained.  The people who finished the tour before us were soaked and told us they were miserably cold on their tour.  We bought sweatshirts (not in the budget) and kept going.  As we stood under the awning waiting for our name to be called, I was beginning to get skeptical.  We were assigned a very wet, sandy Jeep, walked through the rain and climbed in.  Everyone was giddy with excitement.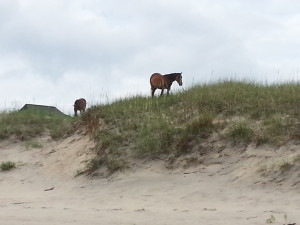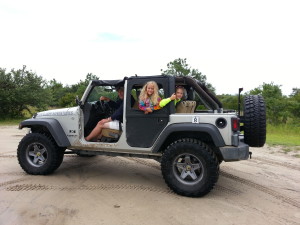 As we pulled out of the parking lot, the rain stopped.   For over 2 hours, we drove around the beach in beautiful weather.  Because it was overcast, it wasn't hot.  The clouds in the sky gave a beautiful backdrop to our adventure. The girls loved seeing the horses wandering around the dunes.  My husband loved driving through the huge puddles created by the storm.  One word.  AWESOME! We had a blast 4-wheeling on the beach and through the dunes looking for horses.  My husband loved being back behind the wheel of his dream vehicle again.  But, even in making memories, there was a lesson to be learned. 
Ten minutes after our tour was over, we climbed into our practical van and the sky let loose again.  It poured!  I turned around to the girls and said "God answered our prayers."
Teach them [my words] to your children, talking about them when you sit at home and when you walk along the road, when you lie down and when you get up" (Duet. 11:19).
My husband said "You act surprised. The Bible says we can move mountains if we ask in the name of Jesus."  I have to admit that sometimes, I can be just like the disciples.  I see God's work around me every day and yet, I doubt. 
In a Jeep, on a beach, we watched horses roaming wild and were treated to God's gift of answered prayer.   Memories that will last a lifetime.
Make memories today, my friend! 
Comments
comments