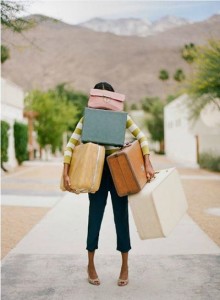 Once again, I am packing for a trip.  Our family travels somewhere at least once a month so I seem to always be packing or unpacking.  Many years ago, I made a packing list that has been a tremendous help to our family.  This morning, someone asked me to share it with her.  I thought you might enjoy it also! 
Download the Packing List Here:  Packing List
Here are some additional packing tips I use to make traveling & packing easier:
Instead of just tossing clothes into the suitcase, put entire outfits together.  Lay them out on your bed and then add one extra outfit in case something happens. If you can use clothing more than once, then eliminate a stack. Select the traveling clothes you will be wearing (ie. the comfortable ones!).

When the kids were little, I packed each outfit in a Ziploc bag so they could grab a bag and get dressed independently.

 Check to see if you have access to a laundry room which will mean you can take less clothing. 

If you have to make a stop overnight before you get to your destination, pack one separate bag for the hotel and load it into the vehicle last.  Include your toiletries, one pair of pajamas and the outfits each person will need the next day.  It will eliminate unpacking/repacking the entire vehicle for that stop.

Diaper bags with multiple pockets make great electronic bags.  We put all cameras, book readers, iPods, etc.,  along with chargers/cords in one bag.  If we have to stop to spend the night somewhere, we just need to grab the electronics bag from the car and not worry that they will be stolen.  The night before you leave, ensure all electronics are thoroughly charged.

We always keep a small cooler with beverages/water in our van on trips and a snack bag.  Recently, I started giving the children money (usually in $1 bills) at the beginning of a trip.  I explain that this is their trip spending money and they can use it however they like but they don't get any extra.  I will purchase all of their food and entrances to special events but that money is for snacks, souveniers and whatever else they choose.  Instantly, the snacks we had in the snack bag become a lot more desirable than if they had to shell out their own money for different ones.

Invest in rolling bags so the kids can help pull the suitcases too.  Since we mostly travel in our van, we use more soft luggage so it can more easily fit into different spaces.  Each person gets their own suitcase and is responsible for it.

If you have kids, invest in a few extra electrical outlet plugs and a nightlight and keep with your toiletry bag.  Whether staying in a hotel or at the home of someone else, they are great to have.  I also purchased a thermometer and some basic first aid kit items because for a while, it seemed we were running to the drug store because someone wasn't feeling well.

Give each child a bag and have them fill it with activities for the trip.  You may have to monitor this.  Once, one of my daughters filled the entire bag with doll house furniture and nothing else.  That wouldn't have kept her busy long.  If you have younger children, you can stop at a dollar store and purchase several small items for each child.  Give them incentives to stay busy (without arguing or complaining) until certain checkpoints where they will receive a gift.  Older kids might need additional $1 bills instead. 

Bring along laundry detergent, using a small plastic container with a lid.  If you have access to a washer and dryer, spend a few hours before you leave doing some laundry.  You may be thinking that you would never do laundry on vacation…until the first time you come home and hand everyone their own suitcases and they simply have to put away their things and store the luggage.  You might have one load of laundry to do when you get home but that is certainly better than 4.  Besides, doing laundry on vacation with a good book just seems easier!  🙂
Do you have any packing tip to share?  Please leave them in the comments below.
Enjoy your trip!
Comments
comments