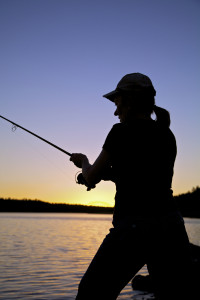 Have you ever started thinking about the things you did in the past and felt guilty? I was driving one day – had plenty of time to think – and my mind went way back to a time in my life when I did some things I wasn't proud of.  I lingered over those thoughts for awhile and pretty soon my list was getting longer and longer on what I did that I wish I didn't!   
I was reviewing what I did – what I said, and what other people did – and what they said….I was getting deeper and deeper in sorrow over these things.  So, I started praying and telling the Lord how sorry I was, and asking Him to forgive me….again.  Yes, I had already prayed about these things before, and believed I had been forgiven.  But here I was dealing with it one more time. 
As I continued driving and thinking about this, I heard myself say to the Lord, "I don't mean to be fishing in a dead sea, but….." and then I stopped.  I realized that that's exactly what I had been doing!  I was resurrecting things that I had already been forgiven for; things I was not being held accountable for anymore.  I knew better! 
Corrie ten Boom wrote about her experiences with helping Jews escape the Nazi Holocaust during World War II and her imprisonment for it.  In her book Tramp for the Lord, she had these words to say regarding forgiveness: 
"It was 1947….I had come from Holland to defeated Germany with the message that God forgives.  It was the truth they needed most to hear in that bitter, bombed-out land, and I gave them my favorite mental picture.  Maybe because the sea is never far from a Hollander's mind, I like to think that that's where forgiven sins are thrown.  'When we confess our sins,' I said, 'God casts them into the deepest ocean, gone forever – then God places a sign out there that says No Fishing Allowed!"  
God promised to remember our sins no more, and says that our past is gone, dead, and crucified in Christ.  What God forgives, He also forgets!  And here I was trying to fish in that dead sea again! 
The enemy was trying to take me down a guilty trail of tears, but God wanted me to see I already had victory because Jesus had come into my life and had forgiven me.  My past mistakes do not define me today – I am free and not guilty!  Oh the deep joy of that truth!
Help me Lord to extend that same forgiveness to others – to freely forgive, and remember their sins no more.   
If you ever start feeling guilty over your past and find yourself fishing in that dead sea, remember to just hold up the sign in your mind, "No Fishing Allowed." You have been forgiven!
2 Corinthians 5:17
Therefore, if anyone is in Christ, he is a new creation.  The old has passed away; behold, new things have come.
Romans 8:1 Therefore, there is now no condemnation for those who are in Christ Jesus. 
Romans 4:7-8 Blessed are those whose iniquities are forgiven, and whose sins are covered. Blessed is the one whose sin the Lord will never count against them. 
Isaiah 43:25 I, even I, am he who blots out your sins for my own sake, and remembers your sins no more. 
Psalm 103:12 as far as the east is from the west, so far has he removed our transgressions from us.
Jeremiah 31:34 ……for I will forgive their wrongdoing and never again remember their sin. 
Galatians 2:20 My old self has been crucified with Christ.  It is no longer I who live, but Christ lives in me.  So I live in this earthly body by trusting in the Son of God, who loved me and gave himself for me.
Solomon's Porch
Comments
comments