Like most people I have a Facebook page, and one of the pages that I "Like" is Urban Dictionary.  Did you know that there is term listed on the Urban Dictionary website that actually is called "Facebook Envy?" I am sure it comes as no big surprise to you that Facebook Envy loosely translated means that we harbor, to some degree, envy towards those very people we call "Friends."  That envy could stem from seeing fabulous pictures of beautiful spouses taken on exotic vacations, perhaps after having been run through Photoshop a time or two.  Maybe a friend is gloating about an overachieving child, the fantastic promotion at work or newly minted college degree that just seemed to materialize out of thin air. 
Well to start off with, besides being a sign language interpreter I am also a photographer, specializing in portraits and weddings, and I will tell you straight up that it's easy for everyone to look happy in a family photo.  Although there are missed shots and closed eyes those photos are never shown to the family and most certainly never posted to Facebook.  Think about it, would you post a bad picture of yourself or your family?  I know I would not and neither would most of your friends.  Therein lies the very seed for Facebook  Envy, we all put our best face forward for all to see and comment on. What you are seeing is not their normal everyday lives, although some do post blow-by-blow descriptions of their lives which can be as disturbing as they are annoying, what you are seeing is what they want you to see.  In the vain attempt to get someone to comment about how fabulous they look or how marvelous their vacation must have been they will post…repeatedly, and if your feelings towards that person are genuine by all means post the comment.
Beware of Facebook Envy though…that jealousy that creeps in when you are trolling through the photos of someone's trip to Greece or their marvelous cruise. 
Proverbs 14:30 states "A tranquil heart gives life to the flesh, but envy makes the bones rot." Yes…envy makes the bones rot!  Jealousy should be given no room in our hearts or minds, what God has planned for you is not the same as what He has planned for your friends and Jeremiah 29:11 ESV states "For I know the plans I have for you, declares the Lord, plans for welfare and not for evil, to give you a future and a hope." 
HOPE!!  God give us hope.  His plans for your life and my life may not be even remotely similar, what you already know I may still need to learn…our paths are infinitely different but eventually we will meet, probably not in an Italian villa but most assuredly in Heaven!
Many years ago while li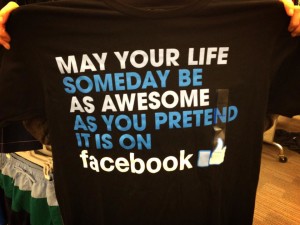 ving on a small base on the island of Oahu, far from Honolulu and Pearl Harbor and well off the beaten path, a good friend of mine recounted a conversation she had recently had with a good friend of hers on the mainland.  Apparently my friend had been complaining about life in general or perhaps something specific and her wise friend asked her one very simple question: "If you could hang out all of your friend's dirty laundry on a laundry line, who's would you choose?"  Well her answer was simple, her own of course. 
So who's dirty laundry or fabulous vacation pictures would you want on your facebook page?  Are you living a life that has been re-touched by Photoshop or an authentic life filled with hope and facebook envy that has been kept at bay?  I encourage you to think about the journey you are on, focusing what God has planned for you and turning away from the bone-rotting jealousy and choosing hope!
Comments
comments