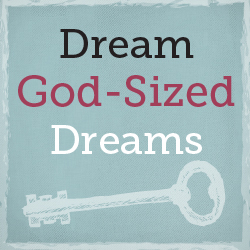 Walking down the beach one day, my husband of 6 months asked me what dreams I had.  The look on his face when I answered was priceless.  "I want to buy an RV and travel the country with no agenda.  I want to stop in small towns along the way and learn everything I can about the United States."
He stopped in his tracks, spun me around and said "Let me get this straight.  The woman I married who has never asked for anything more expensive than $100 wants to buy a vehicle that costs $100,000 and drive it all over the country?"
Pretty Much.
And that is how it started.  It didn't help when Lisa Whelchel (Remember her from Facts of Life?) took her family for a year-long Family Dream tour in a motor coach.  I followed her blog and lived vicariously through her.  And after 15 years of living the "American Dream" of working and raising 2.5 kids, I decided there had to be more.  I think my dream fits perfectly with the ultimate vision God gave me for the Encouraging Women ministry 17 years ago;  to minister to women's groups around the country.  What better way to do it than in an RV, homeschooling along the way?
This past year, I devised a 5 year plan.  First, I ran the plan by hubby.  Yes, that was a big step!  For the first 14 years of marriage, it was a silly little thing we talked about in the far away future and now, I am wanting to make it reality.  While he loves the idea, there are about a zillion details to take into consideration.  I even invited a traveling family who we had never met, The Golden's, to visit when they came into town so he could talk to them.   That was so much fun!  We asked so many questions, toured their rig and received great advice.
Next, I found a business coach to learn everything I could about earning money with an internet site.  In addition to the Encouraging Women ministry, we are planning a another online business to start soon.  Just in case I don't have enough to do, I spend my spare time watching videos, reading materials and studying how to best manage these things.  Often, I am writing or working on business things until the early hours of the morning.  I am working on written goals for both Encouraging Women and the business so we can have something to aim for.  I even bought a toy RV that sits on my desk as a constant reminder of what we are working toward.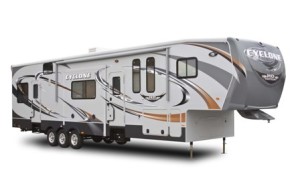 Part of the research includes going shopping to determine what kind of RV rig we want.  We have narrowed it down to a few but this one pictured is one in the lead (so if you have an inside connection at Heartland RV's, let us know!)  There is room for an office/schoolroom in the back and a separate bedroom for Daddy to have his space when he needs solitude.  When we made this our family night, it was truly transformational for all of us.  We gave vision to our dream.  We talked about what we would have sacrifice in order to make this happen.  We laughed and got excited about all the places we could visit.
My plan is to pull out of our little town no later than January of 2017 but sooner if we can.  Maybe you are saying that is the craziest thing you have ever heard of; putting 2 kids in a tin can and driving all over the US.  That's okay.  It isn't your dream!  It's ours!
What IS your dream?  Have you started planning yet?  Commit to the Lord whatever you do and He will establish your plans ~  Proverbs 16:3.  Part 3 of this series will be about how to get started!
Part 1: #1 Reason For Not Achieving Your Dream
Read Part 3: 10 P's to Achieving Your Dreams
Read Part 4: Dream Killing 101 
What is your God Sized Dream? Tell us about them in the comments below.
Comments
comments