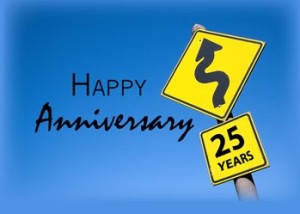 Recently my husband and I celebrated our 25th anniversary…our "silver" anniversary…25 years, really?! Time sure flies and I am honored and humbled to have spent one quarter of a century with this one man. On that hallowed day I made a post on my personal social network page with words to the effect, "What do 2 kids, 3 boats, 3 houses, 5 dogs, 10 states, and 23 cars have in common? Twenty-five years of marriage to my best friend."
While all of those statistics are true there are a lot of other significant events that shaped more than half of my life such as the passing of my father at the age of 59; a rare life threatening tumor that nearly left my husband a widow and my children without their mother. There were Navy deployments that left me alone on the island of Guam for 19 out of 26 months complete with typhoons, earthquakes, broken down vehicles and the "Wives Club." There were deployments in San Diego that left our then 4 year old son devastated. Then there was our daughter who broke out with a severe case of the chicken pox the very day my husband's ship pulled out for the week, when he returned she was back to her perky little self…then, two weeks later, the day after our son's 4th birthday (and the party at Chuck E. Cheese) my husband left again for a week and sonny-boy broke out with chicken pox.
There were moves from places we loved to places we hated. Laughter, tears, hugs and always family dinners around the table. No matter what my husbands job or work schedule we always had a formal family dinner on Sunday nights, no TV, no telephone. The table was always set with our china and good silverware whether we ate Prime Rib or a scrawny baked chicken, and the kids learned how to eat at the table…which fork to use for their salad and which spoon for their dessert. Even when we were so cash strapped that I had to darn the holes in our socks and dinner was a little chicken on top of a lot of buttered noodles…we ate a formal meal every Sunday night. We provided for our family a safe place that was full of love as well as discipline.
This post was not originally intended to be a reflection of the past 25 years of my life, but that is what it has become.There were times that either one of us could have bailed out, but we didn't. We joke that we have done the "in sickness & health" part, the "richer and poorer" part, the "good times and bad" part and at times challenged by the "forsaking all others" part and all we have left is the "until death do us part" part. In a time when fewer and fewer people are getting married yet the divorce rate is still at about 40% I think it is important to reflect on the meaning of the vows most married couple recite. Those are solemn vows…promises made to each other in front of God and in the presence of witnesses and meant to last more than a few months or years.
On this day I would like each one of you who are reading this, regardless of the current state of your marriage, to think about those vows you and your husband took on the day of your marriage…have you stuck to your promises? Has your husband stuck to his promises? If not is there room for forgiveness?
Twenty five years is a long time, but imagine the joy we will feel when we hit 50 years!
Comments
comments